The OP-AMP classes of type VGA (Variable Gain Amplifier) ​​or PGA (Programmable Gain Amplifier) ​​extend the analog capabilities of microcontroller devices, supporting a number of analog applications with a minimum number of external components and the possibility of being configured with digital commands directly from the microcontroller.
The gain of PGAs can be controlled by external digital or analog signals such as a continuous voltage; it is common to make the gain in dB proportional to a linear voltage control and can start from less than 1V / V to over 100V / V.
Some PGAs can be configured for selectable decadic gains such as 1, 10, 100, 1000, instead others can be configured for binary gains such as 1, 2, 4, 8, etc. External digital control signals can arrive via SPI (Serial Peripheral Interface) or I²C bus; the newer PGAs can also be programmed to adjust the offset voltage, or as active filters. The most popular applications for these products are the conditioning of the signal and the sensors, the automatic control systems of the gain (AGC, Automatic Gain Control), the control of motors.
Texas Instruments' PGA204 / 205 opamps are general purpose PGA instrumentation amplifiers (for general purposes). They're available in DIP-16 format (useful for experiences in the didactic laboratory) and SOL-16 for editing superficial. Figure shows the connections necessary for their operation.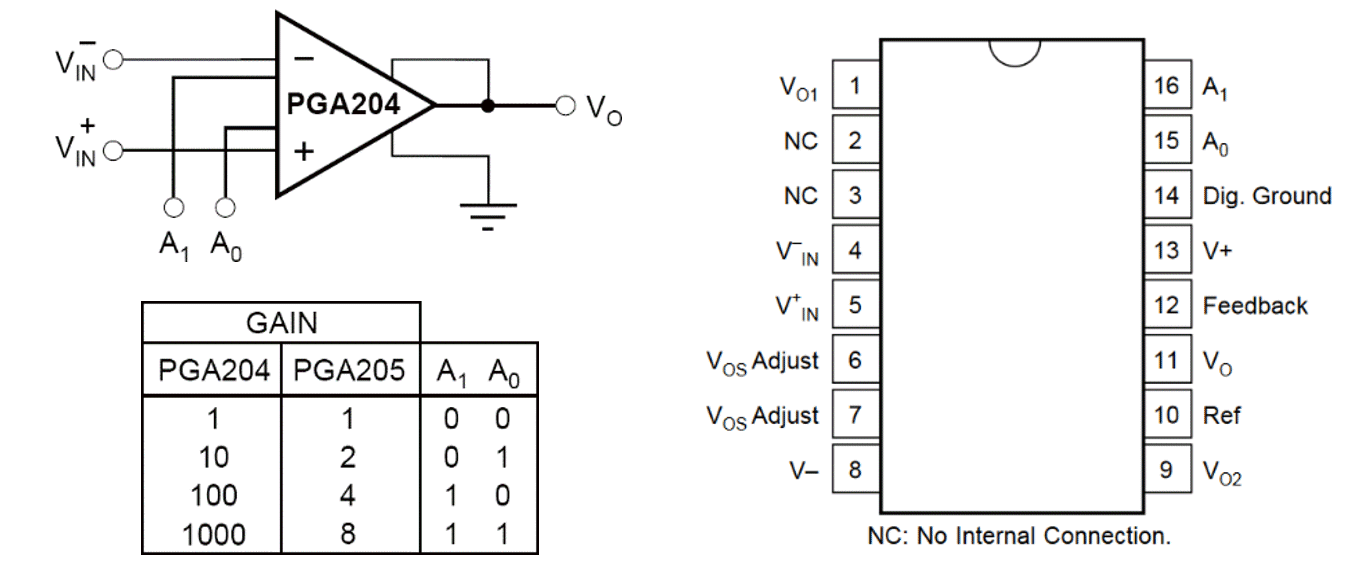 Gains are digitally selected according to the scheme shown in the figure by means of two TTL or CMOS compatible address lines, indicated with A0 and A1. The PGA204 allows gains: 1, 10, 100, 1000 V / V while the PGA205: 1, 2, 4, 8 V / V. The selection inputs A1 and A0 are digital pins 15 and 16 respectively. Logic "1" is defined as a voltage greater than 2V above digital ground potential: pin 14. Digital ground is normally connected to the ground of the power supplies.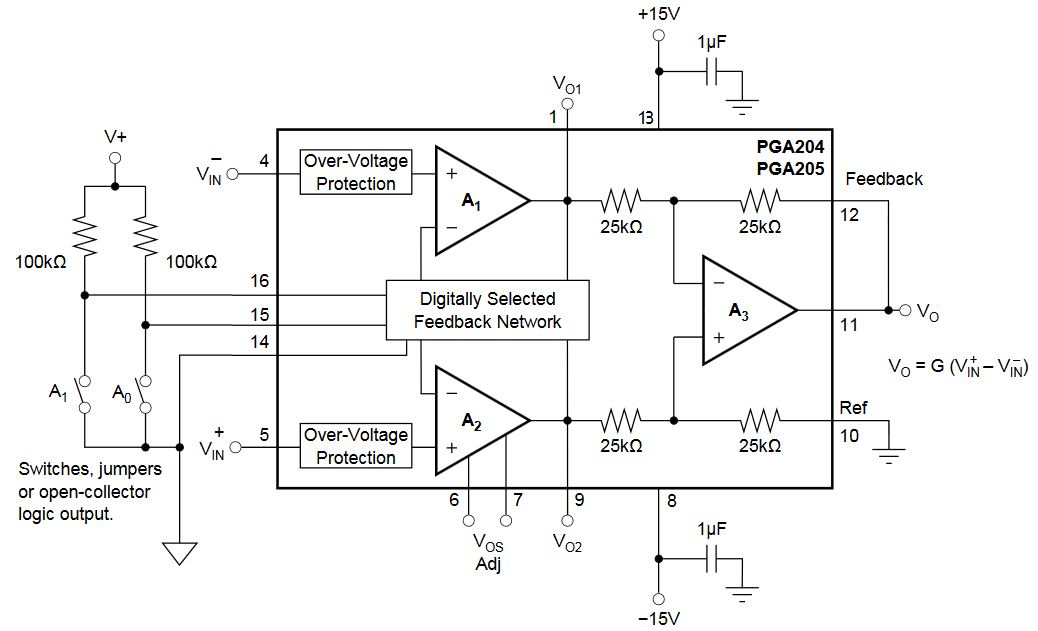 These opamps must be powered in dual supply, V+ to pin 13 and V- to pin 8, starting from ±4.5 V, allowing it to be used in battery systems. The quiescent current is 5mA. Precedent figure shows a basic application that allows you to select the gain of the PGA204 / 205 by means of two switches, or an open-collector logic, exploiting the pull-up resistors connected to ensure noise-free logic "1" when the switch, or the open-collector logic are open and "0" when they are closed. The scheme circuit is like of an instrumentation amplifier, in order to bring pin 10 to ground and to make the external feedback connection, connecting pin 12 to output terminal 11. The analog inputs V+ and V- are pins 4 and 5 respectively.